(BPRW) 2021 Ethel Payne Fellow Erica Ayisi Publishes Amplify Africa Reports | Press releases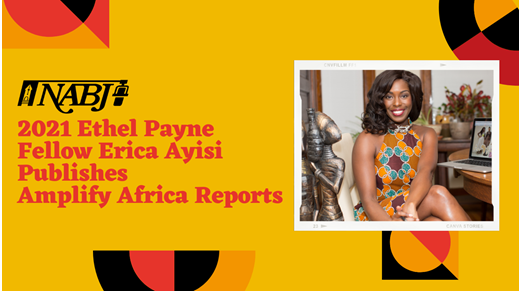 (BPRW) 2021 Ethel Payne Fellow Erica Ayisi Publishes Amplify Africa Stories
(Black PR Wire) NABJ's 2021 Ethel Payne Fellow Erica Ayisi has posted her reporting undertaking "Amplify Africa." The venture is a four-episode digital show readily available on social media platforms and her web-site. The series characteristics underreported subject areas of worth to Africa and the increased global community. "Amplify Africa" consists of conversations with African creatives insights about the growth of the Pan African Heritage Museum and stories about how Ghana's "Year of Return" initiative to mark the 400th yr of African slaves arriving in the United States, extended to "Beyond the Return" fostering an yearly custom of web hosting African diasporans in the country, and much far more.
Ayisi is an award-successful worldwide freelance journalist and educator with practical experience reporting in Cambodia, Africa, Jamaica, the United Kingdom, and the United States. She wears many hats serving as a writer, reporter, producer, host, panelist, moderator, and on-air correspondent.
The NABJ Ethel Payne Fellowship is a $5,000 award bestowed to a worthy journalist. The travel award supplies an option for an NABJ member to get international correspondence practical experience in Africa and the vital aid to total a undertaking or singular report on Africa. The fellowship is named for the initial female, African American commentator utilized by a U.S. community when CBS hired her in 1972.
The articles and thoughts expressed within just this press launch are people of the writer(s) and/or represented companies, and are not automatically shared by Black PR Wire. The creator(s) and/or represented organizations are entirely dependable for the details and the precision of the information of this Press launch. Black PR Wire reserves the right to reject a push release if, in the check out of Black PR Wire, the articles of the release is unsuitable for distribution.